ReturnGO's return management platform encourages exchanges over refunds using AI.
How it works    
How it works    
Trusted by hundreds of brands
Fully branded and Customizable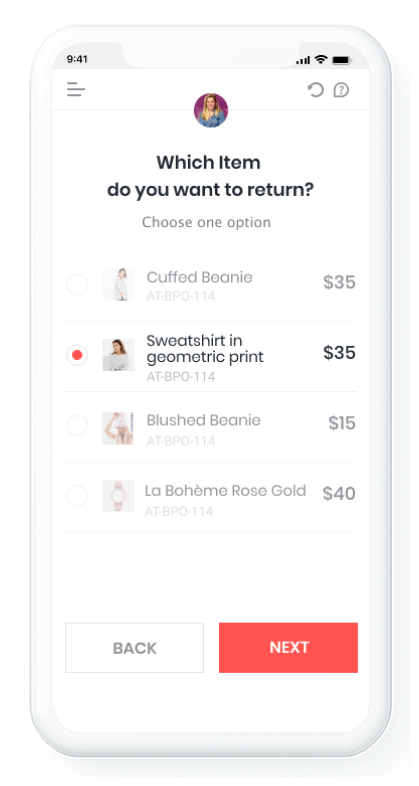 Integrated into your store
We integrate seamlessly between your customer return request and the process of making an alternative offer to the return. Our white label solution enables personal brand customization while we take care of the technology.
Return reasons customized to you
With ReturnGO, you can choose return reasons based on your chosen industry, or even based on a particular product. Each return reason may have different user data flow which affects the Return Score algorithm.
Return score education with minimal effort
During our friendly and quick process, we teach your customers about our return score technology, and how it will be beneficial to them with minimal effort.
Precise, data-driven and real-time
Our technology uses machine learning to instantly navigate hundreds of parameters to find you and your customer the best return alternatives. We encourage customers to accept store-credit, which ultimately maximizes spending power in your online store.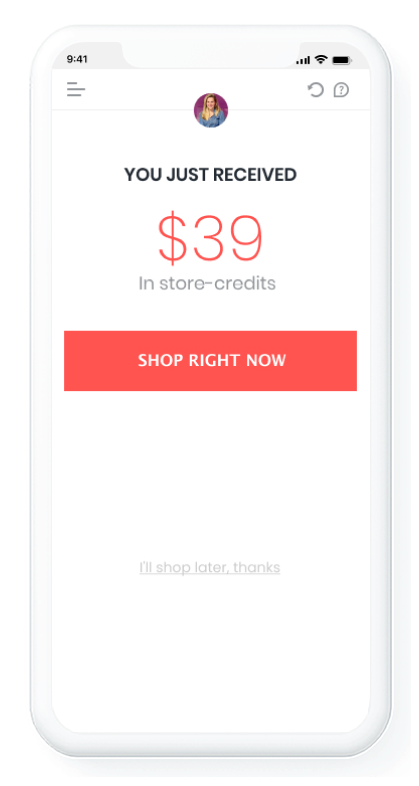 Instant spending power. Customer is satisfied
We give your customers store-credit straight away so they may go and shop instantly in your store, instead of the hassle of a return process and waiting for a refund. This is proven to increase repurchase amounts and customer retention.
Easy
We integrate easily with your current e-commerce platform with no extra code needed.
Free
30 day free trial with no credit card required. After your free trial, our reasonable rates are fashioned to save you money on every rescued return.
Your rules
We don't interfere with your return policies to provide the best experience for you & your customers.
Trust your customers, and let us do the rest
Your best customers journey starts here with ReturnGO
ReturnGO's return experience converts one-time buyers into valuable long-term customers. Our AI-driven "Save the Sale" ability is proven to persuade customers to exchange or receive credit instead of a refund and bring immediate value to both you and your customer. And importantly, you can maximize your long-term profits as our AI technology continuously understands your products and customers with ongoing automatic resolution optimization.
Convert returns into revenue
Reduce your return rate & churn
Gain insights through analytics
White-labeled/customizable
Full integration with your current
e-commerce platform
Bottom line profit increase
Reliable, dedicated service team
Conserve customer support
resources
Actionable insights to grow your business
Our best customers have the highest returns rates.
Craig Adkins
Zappos' VP of Services and Operations
ReturnGO analytics goes beyond return products analytics and uniquely provides insights about the real long-term effects of returns on your bottom line
ACTIONABLE INSIGHTS WITH EXPLICIT PRODUCT RECOMMENDATIONS TO INCREASE YOUR ROI
Optimized for profit
ReturnGO responds dynamically & adapts to each customer by predicting return rates & customer behavior. Moreover, ReturnGO offers a smooth user experience to your customers and enables your brand to increase its bottom line profit.
Avoid returns abuse
Our machine learning engine provides the incentive your customer needs to get an alternative to a refund. Not only deterring potential abuse of your return policy, it will also discourage misuse of our store credit alternative.
Tailor-made
Our solution is tailored for you: Your store. Your industry. Your return policy. Our algorithms are based on data acquired specifically from your store, your particular industry, and the user's behaviors. Before presenting an offer, our tools analyze hundreds of parameters and take them into account.
Our solutions aim to connect seamlessly with your
E-Commerce platforms and logistics partners.
Industry experts thoughts

E-Commerce profits live and die on returns. ReturnGo offers a brilliant way to prompt customers to consider an alternative to sending it back.
Chief Strategy Officer (CSO) at Elastic Path

ReturnGO provides tremendous value to store owners, making a big impact reducing refunds and raising profit.
Digital Marketing and E-Commerce Director

ReturnGO proved a great help to my POD Shopify store off the bat. It offers immense value in the form of store credits and automated returns for our store. I highly recommend this app to any store owner looking to turn their customers into long term fans.
SprayBoo owner
Want to eliminate returns while
watching your profits grow?